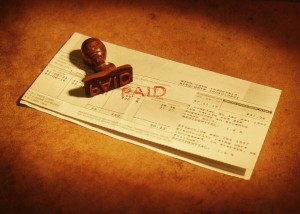 It doesn't matter whether you are a solopreneur like me, a home-based business or small business we all want to know the same thing…How can we get paid faster? One sure-fire way to generate cash flow is to send your clients an invoice as soon as possible.
You could always use your favorite publishing software to generate a professional looking invoice. However with this option you miss out on some much needed additional features like setting-up recurring invoices, tracking, reporting and so much more.
But to really get the cash flowing fast you have to offer customers a way to pay their invoices as quickly as you send them. The most flexible options include accepting payments online via electronic checks, ACH funds transfer or credit card.
Simply stated, you need tools to help your small business get paid faster!
Me too!
Since American Express is my business card of choice, I was so excited when they announced their new invoicing service for small business owners AcceptPay. AcceptPay is an online tool for electronically invoicing customers and accepting online payments.
Great! I signed up right away.
AcceptPay has two options; a free lite version or a monthly fee full version. On the surface the free version appeared to be a nice option for a small business. Until I realized they restrict the number of monthly invoices you can email to 10, it does not include any reporting and you cannot accept online payments.
What's the purpose of sending electronic invoices if your customers can't make a payment online?  RIGHT!?
The full service version has a monthly fee of $20 plus you have to pay a number of per transaction fees. After taking a look at this option I realized with the features they offer you can get even more using the free version of PayPal minus the monthly fee.
Now don't get me wrong I love and frequently use PayPal but there is an even better tool for invoicing your customers.  The best model I've seen for online invoicing is FreshBooks and I'm already using it.
FreshBooks is so much more than an invoicing tool. It's an accounting system with simple services that help you manage your business. You can:
Use a secure web address to access your account, branded with your business name.
You can track time of your staff or a contractor with time sheets by projects or tasks. They will login using your branded FreshBooks web address.
Share documents with your staff and clients, set access levels to restrict who can see what.
Create support tickets to help manage additional time spent with customers.
Send snail mail invoices by the US Postal Service prepared by the FreshBooks team, just purchase stamp credits.  Invoices are sent via first class business mail within one business day.
FreshBooks has 5 different paid plan options and 1 free plan. The free plan is robust with only two restrictions; you are limited to 3 clients but you can invoice them as much as you need. Your emails will have an added signature at the very bottom that reads: "Save time invoicing with FreshBooks (www.freshbooks.com)".  It's so small you or your customers will hardly notice it. In my opinion that's a small price to pay to create a free small business invoice.
For online invoicing and so much more Rising Star Ideas, LLC recommends FreshBooks.
How do you invoice your customers and how do they pay; check or online? Let me know in the comments below.
Get started with savvy online business building learn how to use your WordPress website and online presence to bring new leads and customers 24-7. Check out my FREE Savvy Online Business Building Starter Kit at www.GrabYourFreeStarterKit.com.
Copyright © 2011 Rising Star Ideas, LLC. All Rights Reserved Worldwide
Leave your comment below: