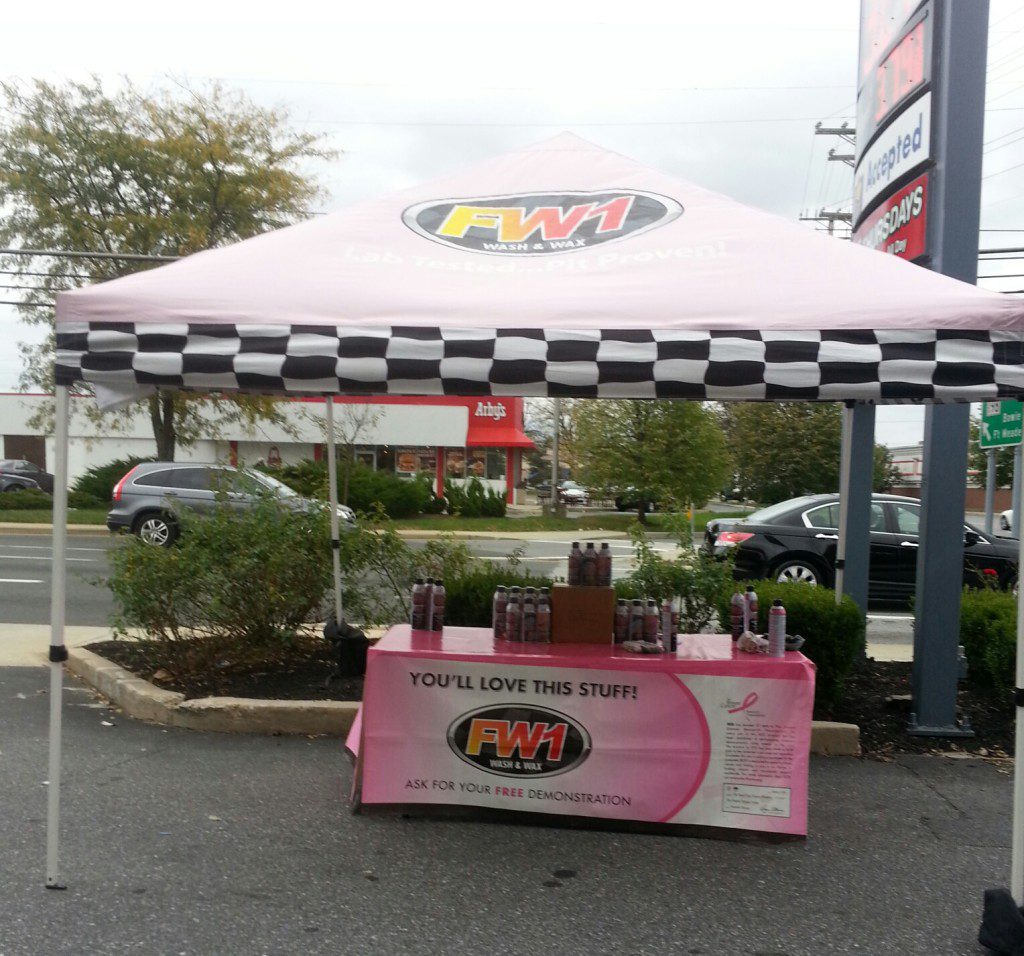 The biggest problem entrepreneurs and business owners have (online or offline) is attracting ideal clients. Before you have customers you have to find (attract) your target audience. After all your target audience is filled with your ideas clients. One thing is for sure: I have not met a single person who has said "I have way too many customers".
The hardest thing to realize is no matter how great your product or service is even if EVERYBODY can use it, its import to know exactly who your ideal client is. Once you have identified who they are, the task to find them will become a lot easier.
On a recent trip to the gas station I noticed a pink display (see picture above) with product samples, several sales people and a banner that read "You'll love this Stuff! Ask for your FREE demonstration".
Caveat: For the record this is not about the product whether it works on not. This blog is about lead generation and attracting ideal clients, how the sales people are using their location specifically for attracting ideal clients.
Where to find your target audience 
Location, location, location.
They could have setup:
at a car wash however a clean car would not have shown how the product works
in the grocery store parking lot but people in hurry wouldn't be interested in a product about their car at that moment
in the mall unfortunately the demonstration may be on a TV and perceived as staged
None of these locations would have given the sales team the opportunity to do the demonstrate on the potential clients actual car. Using their car, the owner would instantly see results and know the product was not a gimmick.
The gas station is filled with their (salespeople) target audience… People who drive cars need gas on a regular basis. Turns out what this sales team is doing was marketing genius!
Attracting ideal clients
There are pockets of places your ideal clients gather online. Yes, this includes all social media sites. Please don't forget people follow hashtags, too. A few years ago hashtags were primarily used on Twitter. Now hashtags are used on Facebook, LinkedIn, Google+, Instagram and Pinterest.
You can also find your target audience on niche blogs. These types of blogs are created specifically for marketing to a particular niche market. They can be around a topic like weight loss for women over 40 or a specific group of people like Moms. Another place you can find your target audience is forums. This is where people gather on discussion sites to hold conversations and share information in a controlled environment.
"Spray and Pray" marketing method
Ask yourself are you following the "Spray and Pray" marketing method? What's that!? Good question, you spray your marketing message to everyone (kind of like inviting everyone you are connected to on Facebook to your event) then pray someone will take the bait and become a client. With this method you won't even know if anyone is paying attention let alone start attracting ideal clients.
I'm telling you from my own experience that doesn't work. Your business will not be as successful as it should be and you will go broke continuing with that method.
Content marketing method
Using content to build relationships teaches us something important about getting more people saying "yes" to our offers. Your challenge is to persuade the reader. Use your content to communicate an understanding of what your ideal clients need but want, almost as if you are reading their minds. All you need is a few simple website content tips that will easily enhance your blog post writing to start attracting ideal clients.
Your Savvy online marketing action plan…
5 steps to 
attracting
ideal
clients
Decide who is your ideal client. Be specific start eliminating as many people as you can.
Write down 5 to 7 places online where your target audience gathers online.
Prepare a no-cost irresistible free offer (demo) to show how your product or service works.
Create content (blog posts, videos, podcast) content around your irresistible free offer.
Start spending time in the places you identified building relationships and sharing your content.
The secret to attracting your ideal clients is simple…be where they are! If your target audience hangout is at a gas station then you should be there too.
Have you seen other examples of client attraction strategies that worked well? Share what's worked for you or others in the comments below.
Copyright © 2014 Rising Star Ideas, LLC. All Rights Reserved Worldwide
Photo courtesy: TonyaRTaylor.com
Leave your comment below: