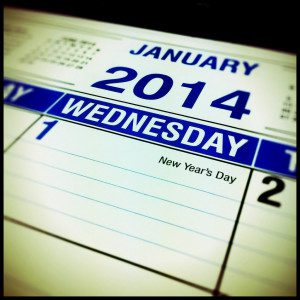 HAPPY NEW YEAR!
It is time for a couple of New Years business resolutions. In 2014 you are going to reach some amazing new goals. You are doing well with online marketing (or are you?), but you can always do better. To start off in the best possible position for growth, you need the best online marketing tools that will generate the most results in the shortest amount of time.
Well, there's no need to reinvent the wheel or take time searching for tools to fill your small business toolbox. You have an arsenal of powerful tools right at your fingertips.
 The best online marketing tools you already have
 1) Your WordPress website
Yes, your WordPress website is the best online marketing tool! But only if you use it like one. This  tool has the ability to help you attract your target audience 24 hours a day, seven days a week and even while you sleep. Far too many solo-entrepreneurs and small business owners create a WordPress website without understanding why Google loves WordPress for driving traffic, SEO and how to get the most out of it.
Your WordPress website builds the foundation of your business. Every marketing strategy you implement both online and offline should start from, or lead to, your website. Resolve to use your WordPress website this year as an online marketing tool lead generation machine.
2) Your website content
Content really is king. Without content your WordPress website is not growing. This is not any content you find around the net then repost on your website. The content I'm referring to is based on you quickly and easily creating blog post that attract clients. This fresh content you create for your WordPress website is filled with information your target audience is already searching for online.
Your website content provides a platform to show-off your expertise. It allows your potential clients to get to know, like, and trust. If content is king, then consistency is queen! Resolve to create content this year on a regular, consistent basis.
3) Your marketing plan
Okay so just having a WordPress website, adding occasional content and uploading pictures to Facebook is not a marketing plan. Your marketing plan should be strategic. Your marketing plan should focus on exactly who you are marketing to and no one else. Your marketing plan should be S.M.A.R.T. SMART stands for Specific, Measurable, Attainable, Relevant, and Time-bound.
WHAT! You don't have a marketing plan? Resolve to implement a marketing plan that involves using your website, creating content, using social media and monitoring your results weekly.
4) Your Google Analytics
Here's the deal, numbers (or data) is a marketer's best friend! Why? It gives you the information you need to start and stop strategies that are not working. The numbers don't lie. They empower your business decisions allowing you to shift resources to more effective strategies.
The only way you can tell what's working in your marketing plan (or not) is by tracking the results. Consider your website numbers, known as analytics, as a crystal ball to see exactly what your leads are telling you  to do next.
There is an old saying, "What gets measured gets managed".  Not only resolve, but make it point (you may want to add this to your business resolution list), to monitor your results on a weekly basis.
How ready are you to use the best online marketing tools to grow your business in 2014?
Starting is hard. But irrelevance [and failure] is even harder. This is why I created a quick-and-easy online quiz to help you gauge where you are and how to start. Take this 5-minute quiz to find out what you need to do next!
Copyright © 2014 Rising Star Ideas, LLC. All Rights Reserved Worldwide
Leave your comment below: