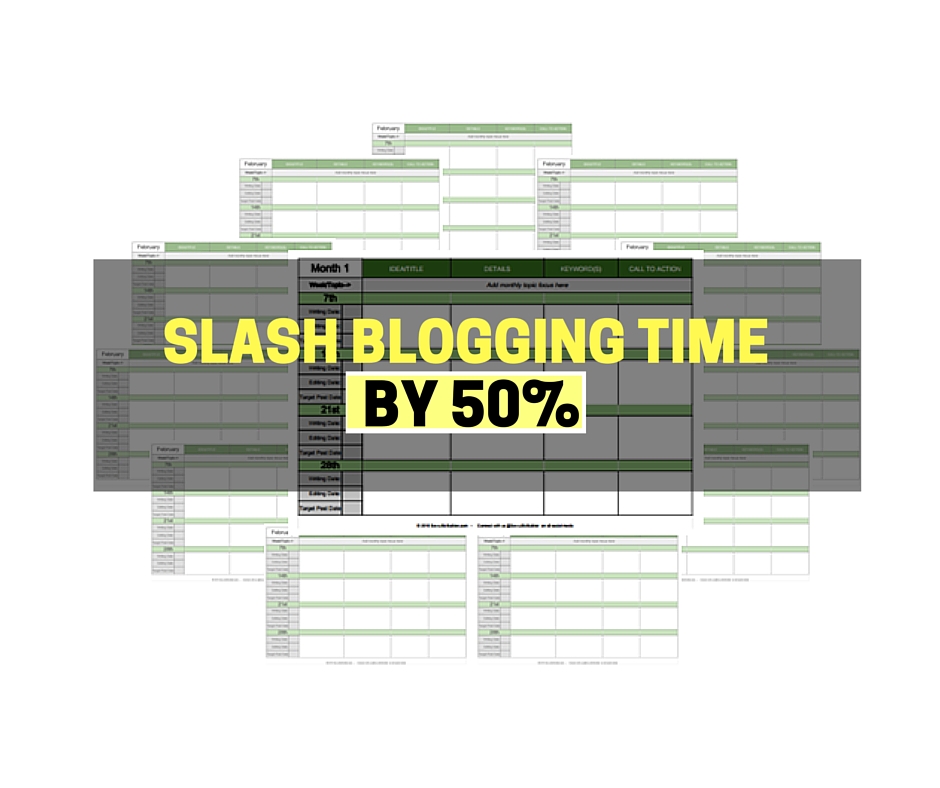 Why you need a blog editorial calendar
There is an old saying, "If you fail to plan then plan to fail."
Well, if you are working a full-time job trying to build your side-hustle business then planning is crucial to your success. That's why magazines and well established blogs have an editorial calendar (and you should too!).
What is a blog editorial calendar?
A blog editorial calendar is a time saving tool that will focus your content writing efforts. The last thing you want to do is rely on inspiration because it quickly comes and goes. Having a solid starting point, a great planning and time saving tool at your fingertips will boost productivity.
The ultimate goal is to take the guesswork out what your are going to write. You want to align your blog editorial calendar around your areas of expertise. This will create balance keeping you from placing emphasis in one area or topic.
5 Steps to creating a blog editorial calendar
Before you get started it is important to create a system that allows you to blog on a regular basis so you stick to the plan and your target audience will know when to expect your fresh new engaging content.
Okay, so how about right now, you set the intention to write one (just one) blog post each week?
GREAT!
Let's get started…
Use this blog editorial template to focus on 3 important dates each week:
Writing date

– this is the day you will commit to writing your blog post. For best results stick to the same day and time each week. I know what you are thinking… "Where will you find the time?"  Well you might have to give up watching TV shows like

Empire, so you can focus on building your own

.
2. Editing date – this is the day you will commit to editing your blog post. For best results write your blog post then allow at least one day for your eyes to rest before you attempt to do any revisions. It may also be helpful to have a friend with take a look to provide feedback.
3. Target post date – this is the day you will commit to posting on your website. For best results start with this day as your goal then work backwards to determine your editing and writing date.
Here are the 5 step instructions you need to slash as much as 50% off your blogging time:
Step 1 – Decide on your monthly topic
At least one month in advance figure out what your monthly focus topic will be.
Step 2 – Brainstorm ideas and titles
Use your monthly topic to come up with ideas and titles to blog about.   
Step 3 – Outline the details
Use bullets to focus your thoughts around the top 5 to 7 ideas, problems and or solutions you would like to discuss in your blog post.
Step 4 – Do keyword research
Take advantage of the data Google collects to see what are the most searched keywords for your monthly topic or blog idea. Some people may want to do this first however I recommend you do the steps in order to keep you focused without being overwhelmed with too many ideas.  
Step 5 – Identify your call to action
When someone in your target audience finish reading your blog post ask yourself, "what do I want them to do next?" This could be read another blog, watch a video, download a free report, take a quiz or purchase a product. The choice is yours. It's up to you to guide them to the next thing.
With this free blog editorial template you have in one place:
All your topics for an entire year of blogging

A confirmed blogging schedule (well in advance) for each week of the year

Ideas with titles and a detailed outline to quickly get you started

The exact keywords your target audience is already using to search in Google

A clear call-to-action to ensure your blogging increase sales
Copyright © 2016 Rising Star Ideas, LLC. All Rights Reserved Worldwide
Photo courtesy: savvybizbuilder.com
Leave your comment below: