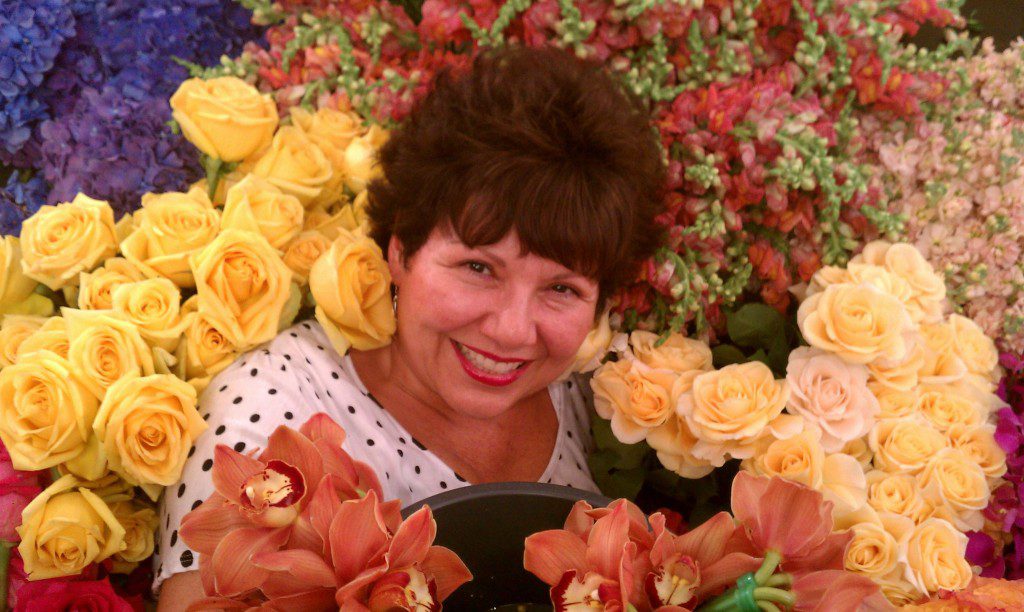 Have you been wondering how to blog effectively to bring in paying clients? Well let me introduce you to one of my VIP clients, Angie Zimmerman, also known as the Wedding Floral Diva who specializes in extreme floral designs. In addition to Angie's talent as a floral designer, she is an instructor for Preston Bailey, the premier event designer and wedding planner for celebrities, royal families, CEO's and athletes.
Angie started working with me because she wanted to begin living her dream of traveling the world teaching floral design. While she is designing floral creations, instructing and speaking, Angie needs her website to continue building an audience of people looking for exactly what she has to offer. Angie was clear on how she wanted to use her website; attract brides, fill her Extreme Floral Design workshops and grab the attention of the floral industry experts and media.
The main goal and focus of her website is to drive consistent traffic filled with her target audience and create a buzz about her business.
Angie's challenge
She wasn't sure about what topics to pick to grasp her audience's attention. Angie was also concerned about how to blog effectively while trying to find free time to write.
Angie's solution
She used blogging to drive awareness around her services for brides and the launch of her new workshop while showcasing her floral design skills.
Angie's results
She attracted two clients for a total of $6000+ in new business simply from writing 2 blog posts for her website!
How to blog effectively: 3 Keys to Angie's Success
Knowing what to write – during our 

business breakthrough strategy session

we mapped out 6 months of ideas with eye catching titles.
Using keywords – the internet is filled with people looking for exactly what you have to offer. The problem is they can't find you. 

What's the secret? Using keywords to drive traffic back to your website.

Making time to write – remember this is part of your marketing, schedule time to write. Using this strategy consistently will build your confidence when talking about your products or services and position you as an expert.
Angie's Testimonial
I love getting emails about results like these from my clients:
"After the first call with Tonya I was reminded how important it is to create new blog posts at least twice a week.  Tonya gave me a list of 25 potential titles to use which was very helpful for me.  That seems to be a big hold up for me, thinking of things to write about…anyway, I wrote about a specific bridal bouquet I had done and used all the key words Tonya suggested.  The next thing I knew I had a comment posted.  At first I thought it was one of those scams that go around, but something told me to research the post a little further.  So I replied and the next thing I knew I was meeting with this bride and her fiancé and now they have booked me to do their wedding flowers for September 14, 2014.  Getting a bride from a blog post has NEVER happened before.  This was a $5,000+ booking for me, all because of a blog post!  I am so excited now to create new blog posts, use all my keywords and book more brides!  This has opened up a whole new marketing stream for me.  Thank you Tonya!"
Then when it happened again Angie was convinced she had mastered how to blog effectively using my simple strategies to obtain new paying clients. This was the second email:
"Just learned that I picked up a new student through one of my blog posts coming up in a Google search for floating floral designs in pools.  That is another $999.00! I'm proving to myself how important it is to write blog posts!  I've never had this happen before…you are my good luck charm for blogging!"
Adding blogging to your marketing strategy is no longer optional! WHY? Because blogging is critical to attracting visitors filled with your ideal clients and leads to your website. Learn how to blog with this easy to use fill-in-the-blank template, its my gift to you.
Copyright © 2014 Rising Star Ideas, LLC. All Rights Reserved Worldwide
Photo courtesy: AngieZimmermanDesigns.com
Leave your comment below: