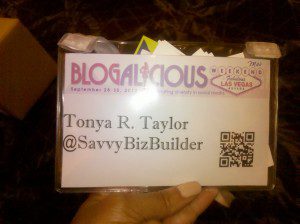 The conference on the top of my list to attend each year is Blogalicious. Not only did I attend this AWESOME event in September held at the luxurious Red Rock Resort & Spa in Las Vegas, I was also a speaker for the second year in a row (yeah me!).
Though this annual conference is still in its infancy (founded 2009) it is the is the go-to destination for influential multicultural women social media enthusiasts from all over the world to collaborate, connect and uplift.
The Blogalicious community is filled with digital influencers, social media enthusiasts, business owners and thought leaders of all ethnicities, niches and industries. Best of all…It is NOT a pitch fest. The organizers, sponsors and speakers care more about providing timely and actionable information to help get maximum value from your time at the conference than banging you over the head to buy their products and services. This year's theme, "Make It Personal" focused on creating content that builds strong emotional connections with your target audience to build a buzz for driving web traffic.  
Here are 5 ways Blogalicious12 used their theme to "Make It Personal" for the attendees and sponsors to help with driving web traffic:
1) Use of hashtags
The organizers of Blogalicios12 used Twitter hashtags to increase the conference experience. Hashtags are used on Twitter (and Google+) as a way of grouping a conversation around a single topic. Many people under estimate the power of using hashtags.  The organizers of Blogalicious12 were smart and forward thinking because they added the hashtags for sponsors, sessions and products on the back of our badges. The hashtag was announced during the introduction of the speaker or session sponsor. The hashtags were also included on the table for quick reference. As luck would have it, there were so many tweets using #Blogalicious12 it started to trend on Twitter. What does that mean? The hashtag is driving web traffic and getting more FREE exposure for the event. When topics start to trend people want to know why and what it about so the start researching the topic by visiting the website.
2) Use of Twitter @name (a.k.a. handle)
This years conference featured oversized name badges which included your name and Twitter handle in a big bold font. The larger format made it clear and easy to read someones name and Twitter handle from one side of the table to the other. Good idea! This simple addition dramatically increased my followers during the conference. The next time you are out networking try including both your name and Twitter handle to the name tag. To help with driving web traffic, another place you can add your Twitter handle is your business cards and your email signature.
3) Use of QR codes
Thanks to the use of the oversized name badge, which provided more real-estate, a printed QR code was added. The QR code made it easy to organize and share your online identity without the burden of exchanging business cards. Now this was an EXCELLENT IDEA! The QR code included your name, website/blog, social media sites and just about any other information you would find on a business card. Sidebar: Check out my blog post, if you are not sure what a QR Code is and how it can be used for generating traffic.
4) Use of a Facebook group
Before the conference started attendees were able to network online. The organizers created a private Facebook group just for conference attendees. The old saying "a picture is worth a thousand words" couldn't be more true. Having a picture next to a name made it easy for me to remember all the bloggers I met before and during the conference. Having this group provides an ongoing location to continue building relationships. In addition, it provides a quick way to let the entire community know about a new blog post, upcoming events and get help from the to help spread the word on across multiple social media platforms.  
5) Use of email marketing
Since most people get email directly to their smartphone, this form of communicating with attendees was an obvious choice. From the announcement of the 2012 Vegas location to the the following up event survey, the organizers used email marketing to communicate. The emails were clean, clear and focused on one topic. Daily emails were sent reminding you about sponsored events that included the event details, a hashtag and website.
At this point the location of the 2013 Blogalicious conference has not been revealed, one thing is for sure, I'll be there.
Copyright © 2012 Rising Star Ideas, LLC. All Rights Reserved Worldwide
Photo courtesy: SavvyBizBuilder.com
Leave your comment below: