DON'T KNOW: Where to start? What to do? Or How to do it?
"Finally a Quick and Easy Way to Get More Visitors To Your WordPress Website, Save You Time and Make You More Money"
From: Tonya R. Taylor
Columbia, Maryland., U.S.A.
Re: The #1 goal of your website is to drive more traffic
Dear Entrepreneur, Solo-preneur, Blogger, Business Owner, Business Coach, Consultant, Speaker, Author, Professional Organizer and Home-Based Business Owner:
It doesn't matter, whether you're a solo-preneur of a small home-based service business or you have a brick and mortar location, growing your website takes a lot of work. But did you know there are some very effective online marketing methods for driving traffic to your website that are inexpensive (even free!) and actually quite simple to implement? And once you get a traffic-building system up and running that actually works for you, you can easily accomplish your traffic-building goals AND reduce a lot of the hard work to a mere fraction of all the time and effort (and maybe money) you're expending now.
Are you…
Feeling overwhelmed with all the information out there and don't really know how to get started with online marketing?
Getting nowhere because you thought you could try out a few things once or twice but didn't realize building your online presence is something you need to keep doing and have a plan?
Trying to figure out what you can do that is easy and consistent to get more people to visit your website and get ranked high on Google?
Tired of not having a lot of constant and good quality traffic every day even though you're spending time online but don't know the right places to fish?
Frustrated with the hundreds of ways to get people to visit your website without knowing the best, most effective techniques that you can actually implement within reasonable time and effort?
I know how it feels to learn a bunch of great information, but still not really know where to start. That's why I decided to put all the pieces of this complex traffic-building puzzle into an easy-to-follow step-by-step program.
That's why…
Instead of sharing with you what MIGHT work I am sharing with you what DID work to get and keep CupcakeIdeasForYou.com ranking higher than Martha Stewart.
This year, I made the decision to turn my successful process into a series of Quick-Start Guides and How-to Videos, it's called:
"Drive Traffic Fast!  The Do It Yourself Traffic Building Program
(No SEO Guru Needed!)"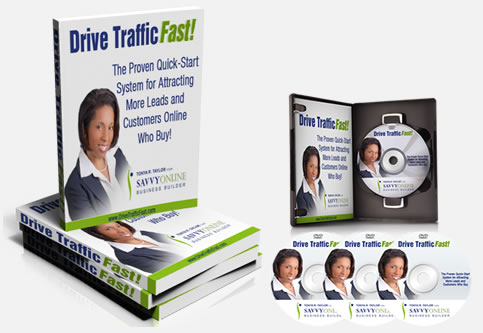 When you're really serious about succeeding online you have to drive traffic to your WordPress website. It can seem overwhelming but I can help you simplify the process no matter where you are in your online journey.
Get easy to follow action steps, worksheets, templates, short videos and more. I'm excited to help you get more traffic fast so you can get more leads and make more money online.
The Do It Yourself Program is loaded with info!
This do it yourself option is for savvy business owners who want more traffic and need a simple, step by step, proven system to make it happen. This is perfect for you if you're just starting out and you have a WordPress website but you just aren't getting the results you want from your current strategy. The Do It Yourself Traffic Building Program gives you the what, where, when, why and (shows you) how of driving traffic so you never have to second guess your efforts again. Best of all you can easily implement it yourself or delegate it to a team member.
Your official "Drive Traffic Fast!" System covers the following topics in detail:
GETTING STARTED: Traffic Building Basics – Cut through the SEO techie talk and clutter. Learn how to effortlessly keep up to date with what's happening in your market, and the five key factors you can use to assess your site and your competitions site too!
ATTRACTING QUALITY BUYERS: Discover Your Niche and Maximize Your Keywords – What good is it to have a website if you don't have traffic? But not just any traffic you want targeted visitors with credit card in hand looking for your products and services. Here I'll share my strategy for identifying keywords and show you how much potential additional traffic you could get by simply using those keywords.
GETTING GOOGLE'S ATTENTION: I'll Show You How To Do This Without Hiring a SEO Guru – Google loves WordPress find out why and find out how to get your WordPress blog loved by Google. You'll learn the SEO power your website has built in it waiting for you to click and use now.
TRACKING RESULTS: You Should Stop Doing This Not That! – There's an old saying "what gets measured gets managed" and your traffic is no different. Consider your traffic like your checking account, you need to know where you're spending your money and if it's time is generating results. This quick-start guide will teach you what the numbers are telling you to do next.
BE THE EXPERT: Create Content Your Traffic Wants To Read – This is what it's all about! You need a content creation strategy so you NEVER worry about what to write again and you're updating your blog consistently. I'll share the exact template I use to write content for my newsletter and blog that brings me thousands of readers. Plus I'll show you how to repurpose this same content without doing any additional work.
ONLINE MARKETING MADE EASY: Driving Traffic In 60 minutes a Day – Simply put…if you fail to plan you plan to fail. Don't know where to start? This quick-start guide will give you the blueprint for the best, most effective techniques you can actually implement within reasonable time and effort. All you have to do is follow the plan.
WEBSITE AUTHORITY: Getting Google to View Your Website as an Authority in Your Niche – This strategy is the best way to get ranked high on Google. You need to know what it is, how it works, and why it should be an important part of your weekly plan. In this quick-start guide I'll reveal everything and all my secrets, tips, tricks and resources.
SOCIAL MEDIA: The Battle Between The Popular Sites – Find out who wins and why. Get my insider knowledge about which you should use to maximize your online business exposure. I'll share how you can get powerful visibility by using just one social media site that's filled now with millions of your target audience.
BLOG COMMENTING: The Pros and Cons – Do this strategy wrong and it's a huge waste of time! Do this strategy right you will generate a ton of free highly-targeted traffic, boost your search engine ranking and help your website authority. In this quick-start guide you will learn how to get comments and leave comments the right way.
CONTENT DISTRIBUTION: Get Other People To Spread Your Content Free – They know where's the best place to fish so you get a lot of constant and good quality traffic every day. Learn how to find the right places to post, cool tips and little tricks that will have these sites begging you for more content.
LOCAL SEARCH: Getting Traffic From Your Own Backyard – Let's face the yellow pages are dead! When people want information they Google it! Your business needs credibility and Google can give it to you. But first you need to understand what critical information Google wants to help you get found locally. This quick-start guide will give you the answers (no brick and mortar location needed).
TRAFFIC RUSH: Paid vs Free – Learn the differences between paying for traffic and getting free traffic. You need to know with so many free traffic generating methods why it might be worth paying for traffic too.
SHAMELESS PROMOTION: Spread the Word to Drive the Traffic – You can have the best product or service in the world but if nobody knows about it doesn't matter. That's why you need to toot your own horn because if you don't' no one else will. This guide will teach you one of the oldest forms of attraction marketing with a fresh modern online twist.
Plus you'll get these awesome benefits:
Quick start HOW-TO videos (5 minutes or less) to implement right away
Quick start GUIDES so you can print the information for reference and add to your learning library
Simple, step by step assistance so you know exactly what to do to get results with no-cost to low-cost tools
Easy to follow schedules to maximize your time and get results fast by implementing or delegating tasks to your team
Proven strategies to get ranked by Google quickly so you attract the right customers and clients online
Weekly action guide so you know exactly where to focus your efforts and when
Checklist to make sure your efforts are completed in the proper order so you don't miss a critical step!
Worksheets with filled in examples and blanks for your own use to save time and eliminate the guess work
Answers to your burning traffic building questions
Ongoing traffic building strategies delivered to your inbox for as long as you need it. Pay as you go and stop when you're ready (This means no contract – month to month fresh information and I bet you won't want to leave since technology changes and I'll keep you up to date regularly so you maintain your competitive, traffic building edge)
Here's what just a FEW users of Tonya's Drive Traffic Fast! methods have to share:
In just a few months, my list grew 20%

"Thank you so much for your amazing traffic-building system. My list grew, my business grew, and it was all because the strategy I used for my websites social media outreach. In just a few months, my list grew 20%. The system provided an easy to follow daily "to do" list so I was authentically promoting my brand in a streamlined and effective way that maximized my time and helped to grow my business."

Kirin Christianson
Mrs. Arizona America 2012
www.redhautemama.com

Secured two guest-posts on high-ranking, relevant websites

"Tonya's Quick-Start Guides helped me build a sensible plan to increase my website traffic and gain valuable publicity for my business. The step by step plan helped me do a competitive analysis of my marketing. Within a week of implementing the program I had secured two guest-posts on high-ranking, relevant websites that increased my own website traffic and doubled my opt-in ratio. By following this program I raised my Alexa ranking from a 2.6 million ranking to a 1.2 million and a PR rank from a 2 to a 3!"

Vidette Vanderweide
International Lifestyle Consultant
www.videttev.com

My internet leads are up 40% over last year

I started working with Tonya 4 months ago to increase my website traffic and generate new leads. Tonya and her staff have really boosted my online presence for my business. They came up with a strategic plan to increase my visibility, drive traffic and get more leads. And they executed everything for me. My business is now in the top searches on Google and my internet leads are up 40% over last year! To top it off, one of my clients just told me that I was on the top list for each of her Google searches that's why she chose me. She said WOW your online marketing is really working! A HUGE thanks to Tonya and her team!"

Meta Cadigan
Owner
Columbia.CertaproPainters.com

Within 2 weeks of implementing we received a measurable amount of web traffic

"We were excited about how fast we received results! Our management team used this traffic-building system to enhance our online presence. Within 2 weeks of implementing one of Tonya's strategies we received a measurable amount of web traffic which produced new leads and new clients. Tonya has proven strategies and tips. She knows what works!"

Marshall Cheeks, Jr
Sr. Project Manager
www.svcmasterbyrsi.com

400 hits to my site with tons of opt-ins

"I was quoted in a SHAPE magazine article that ended up on yahoo (Alexa rank 4!) Has a link to my website and has my book name – yay! When I checked Google analytics this am had over 400 hits to my site already & got tons of opt-ins (thanks Tonya R. Taylor – Your Savvy Online Business Builder for teaching me how!)"

Trudy Scott (CN)
Food Mood Expert
www.everywomanover29.com
My Personal "Make-You-Happy" Guarantee!
If you're not 100% satisfied with this product, just contact my team to let us know within 7 days of your purchase, and we'll cancel your order no reason necessary.
And that's my promise!
Invest in The Do It Yourself Traffic Building Program now for only $97 per month. For less than what you spend on dinner and a movie you can have your website working for you around the clock with The Do It Yourself Traffic Building Program.
I can't promise you a "magic pill", but here's what I can offer…
With my Drive Traffic Fast! Quick-Start Guides, I promise you'll get my tried-and-true strategies in a winning formula that has worked for me and my clients for years. And you'll also learn why a system does work better than the sum of its parts. Once you get all the moving parts working properly and in sync, you will see results, and you'll be free to grow your business in every way you've imagined.
And, to make the Drive Traffic Fast! Program even more accessible, you can get started with a 14 page guide filled with content, 3 How-To videos, examples and a worksheet. for 7 days.
Ask yourself: what is having more traffic full of prospects who buy over and over again worth to you?
So, are you ready to reduce your lead-generating efforts to a fraction of the time and energy you're currently spending?
"Yes! I'm ready to get more traffic NOW! Download my first Quick-Start Guide from Tonya's Traffic Building System today and let's get my website  full with new leads and ideal customer—and my business—growing."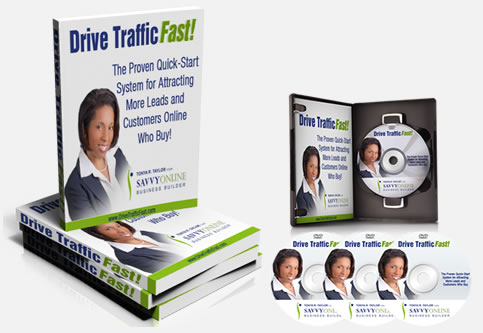 I understand with my investment, I'll receive the following:
 Tonya's "Traffic Building System: Strategies, Tools, and Secrets to Drive Your Own Website Traffic Full of Prospects Who Buy!" Monthly Quick-Start Guides – Covering  informative online marketing,  SEO, content creation and social media topics chock-full of:
1) Real-life EXAMPLES to illustrate what I'm reading and learning about.
2) Fun EXERCISES for me to complete that will not only help me retain what I've learned, but are designed to get my own traffic-building machine set up and running
3) Action guides loaded with "step-by-step" instructions for each guide, including notes, resources, and checklists so I won't miss a thing!
4) How-to videos  – My Traffic Building System comes with quick 5 minute (or less) video training taught by Tonya. I get to listen in as Tonya personally walks me through the action step, providing an overview of the material and illustrating her tips and pointers so you know EXACTLY what to do.
Just click on the secure order link below, and YOU WILL RECEIVE YOUR FIRST QUICK-START GUIDE INSTANTLY  (Even if it's 2:00 AM on a Saturday)
Get started right away for $97!
Check out the first Quick-Start Guide "How to Cut Through the Online Marketing Clutter to Unleash Your Competitive Edge" for 7 days – without restrictions I might add!
 This 14 page guide is filled with content, 3 How-To videos, examples and a worksheet.
Click the "Add To Cart" button below to start your $97
This is a monthly program.  You can cancel any time – before your next billing statement.
"INTRODUCTORY MONTHLY INVESTMENT"
You can be assured this online transaction is 100% secure and after your information is received you will get an electronic receipt and instructions within just a few minutes.
Remember K.I.S.S. – Keep It Simple (but) Savvy,
ps…Remember, you're buying the "Drive Traffic Fast! System" at absolutely NO RISK to you. You've got nothing to lose, so reserve your copy now.
Legal Disclaimer: Every effort has been made to accurately represent our program and its potential. Any claims made of actual earning or examples of actual results can be verified upon request. The testimonial and examples used are exceptional results, don't apply to the average purchaser and are not intended to represent or guarantee that anyone will achieve the same or similar results. Each individual's success depends on his or her background, dedication, desire, and motivation. As with any business endeavor, there is an inherent risk of loss of capital and there is no guarantee that you will earn any money.