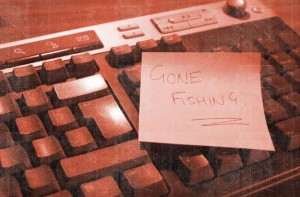 We are fast approaching the unofficial end to summer and unfortunately the end of vacation season too. How many times have you wanted to hang that gone fishing sign on your computer this summer?
Sadly, for solopreneurs and small business owners going on vacation can feel more like a burden and less like a relaxing time away from the office.
Ask yourself these questions:
When was the last time I had a vacation?
When I get-away do I completely shut down?
Am I afraid to take time away because it will be too hard to catch-up when I return?
You don't have to give me your answer but let me tell you mine… when I asked myself these questions I was amazed to find out:
I have not had a "real" vacation in well over 3 years. By "real" I mean, more than two days, no laptop or mobile phone, just plain ole' relaxing while reading a book or magazine.
When I get-away I usually have my laptop and now I am even more connected with my brand new Droid mobile phone I love so much.
Yes, I am afraid to because there's always tasks to do and email piles up quickly.
So what can you do as a solopreneur or small business when you need time away to recharge and refuel your mind and body?
Here are 5 tips and resources to help you keep your small business running without you while you take a vacation:
1. Use autoresponders. You can create sales messages, email, newsletters and more well in advance so you can constantly communicate with your prospects and customers while you are away.
2. Schedule your social media updates. You can create and schedule updates in advance for all your social media marketing this is a great way to keep your website or blog traffic steady while you are relaxing.
3. Offer live customer support. You can easily add online chat support to your website or blog so your customers and prospects can get information and answers in real-time. Keep in mind you will need to outsource monitoring to a freelance professional or virtual assistance.
4. Use a small business phone system. You can create multiple extensions to route calls to a specific voice mail messages with further instructions or forward calls to an answering service where a real person can assist or take a message. Keep in mind you will need to outsource monitoring to a freelance professional or virtual assistance.
5. Organize your email. You can create multiple accounts for different areas of your business to make it easier to identify which messages need to take priority, which can be deleted completely and which messages can be read later. For example:
Sales
Billing
Support
Info
Newsletter
Personal (for your friends and family only)
You could use an autoresponder to automatically follow-up or outsource responding to a live person.
But look – if you just can't turn it off or you want to do a "Work-Cation" instead take a look at my article Ten ways to take your business out the office and into your phone.
Either way I hope these tips will help you relax and have fun while you're Gone Fishin'.
How do you keep your small business running while you are on vacation? Leave your tools, tips or thoughts in the comments below.
Photo courtesy: flickr LivingOS
Copyright © 2011 Rising Star Ideas, LLC. All Rights Reserved Worldwide
Leave your comment below: