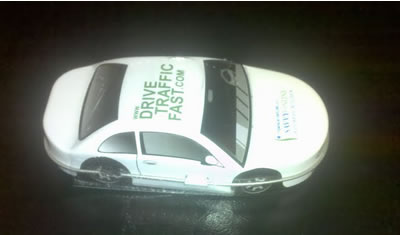 No doubt about it, the best marketing funnel ever created is completely useless without a steady flow of website traffic pouring into it. You paid a ton of money to have that AWESOME website created for your business, right? Now it's time to get some traffic because without traffic, what's the point of having a website to begin with!
Here are 5 ways to REV UP your website traffic in 2015
I'm sure you've come across a strange square black and white box. Look around, you will see these funny looking images on anything from your monthly billing statement to pre-packaged products like toothpaste. Did you know these images are being used to quickly increase website traffic? Let me give you the five W's (and one H) about these images>>
Are you worried about the economy? Who isn't! In today's tough economic times small businesses owners need to find and/or create innovative ways to earn more money. I guess that's why I am constantly asked "What can I do to drive more traffic to my blog or website?" In an economy that has been so challenging, it's nice to be reminded there are free and low cost resources available to help grow your business. Take a look at this traffic generating checklist full of FREE resources>>
I had the pleasure of presenting at the third annual Blogalicious Conference. The Blogalicious Weekend Conference is the largest blogging conference celebrating diversity in social media. The three-day event brings together a group of savvy, influential and talented women bloggers to share ideas and inspiration in the context of Web 2.0. The event was filled with bloggers who are making an impact on the world. There was a theme was echoed in my presentation and by the presenter of every workshop I attended. I'm calling the theme 3 C's you need to drive traffic to your blog or website; content, consistency and community>>
No, this is not a joke. I'm serious, when I tell small business owners paying for Facebook "Likes" to drive website traffic is a bad idea. Okay before all the Facebook experts and gurus start yelling at me, blowing up my inbox, leaving comments on my blog, posting on my Facebook wall and sending tweets (YES, they really will do all of that). PLEASE let me explain…
One of the first questions I ask my clients who are interested in driving more blog and website traffic is "How often do you review your analytics?" You want to know what they say… Surprisingly, I have found a few small business owners who review their analytics weekly or monthly. Unfortunately, an overwhelming number of new clients say they never look at their analytics. However the most shocking statement and eye opening response was "What are analytics?" So just to make sure we are on the same page let me define the term for you…

What's next?
Discover how to use your website and online presence to attract new leads, more traffic and customers 24-7. Grab your FREE Website Traffic Secrets Starter Kit at www.GrabYourFreeStarterKit.com.
Copyright © 2015 Rising Star Ideas, LLC. All Rights Reserved Worldwide
Photo courtesy: savvybizbuilder.com
Leave your comment below: