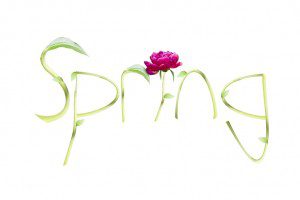 Ahhh…YES, spring is in the air! One of the biggest parts of Spring  is spring cleaning and getting rid of clutter. If your website is not maximizing its marketing effectiveness for your home based business then you need a spring cleaning. 
Use this checklist as part of your website strategy to learn how to spring clean your website:
Clean out old content. This website strategy is key to keeping your visitors longer. If you have content on your website promoting events that have already taken place it's time to remove them. Displaying old content especially on the home page may lead visitors to think your site is not kept up to-date with relevant information.
Include bright new images or video. There is a saying – a picture is worth a thousand words. It a proven website strategy adding images and video keeps visitors on your site longer. In addition, adding images or video will help you sell products. It doesn't matter if your products are physical or virtual you can create images for them.
Update your professional photo. Are you using the most current photo? Your professional image determines how people respond to you. Remember buy from people they know, like and trust. Image is everything.
Verify on different browsers. Have you ever checked to see how visitors see your website? You may be shocked to learn websites look different when viewed on different browsers. There are many web browsers to choose, check the most popular browsers used by your visitors.
Add fresh content with a blog. If your website is not frequently updated you are missing a huge opportunity. Both your visitors and Google want to see fresh content. Adding a blog to your website with relevant information will drive more traffic and will help your visitors see you as an industry expert. Note: you can easily start using this website strategy today.
Make use of social media. Make it easy for your visitors to share your information across social media platforms. Use buttons to help visitors quickly spread your website on Facebook, Twitter, LinkedIn and social bookmarking sites. Use buttons to help visitors quickly "like", "follow" and "connect" with you on social media.
Revive with technology. Remember, your website is the hub of your business. If you have been neglecting it you may need to add some technology to perk things up. Use technology to help you automate routine tasks, monitor your traffic, measure your marketing campaigns and keep your business open 24/7.
Visiting your website will be more engaging if you clear out old stuff during your spring cleaning.
Ready for your personal "Spring Cleaning"? Schedule  your "Get Acquainted Call" to see how I can work with you to clean your WordPress website so you get more traffic, get more leads and get more sales. http://bit.ly/ChatWithTonya 
Photo courtesy: microsoft.com
Copyright © 2014 Rising Star Ideas, LLC. All Rights Reserved Worldwide
Leave your comment below: