"This

absolutely FREE report

hands you the ins and outs of using Twitter to ensure your small business grows…And huge profits come along with it"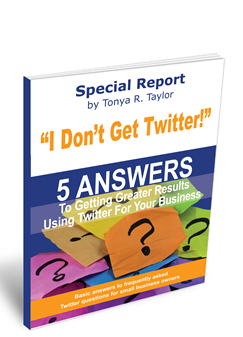 No more wondering what to do & how to use Twitter
No more spinning your wheels trying to figure out how everyone else is successfully using Twitter while you're struggling just to get started
No more being left behind the social marketing trends
No more wishing, hoping & praying that somehow you'll come to understand Twitter…With this FREE report, you finally will get why you should use Twitter.
From: Tonya R. Taylor
Columbia, Maryland, USA
Tuesday, 8:30 a.m.
Dear small business owner,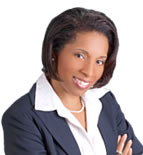 So you've heard how great Twitter is and how your small business could benefit from having a Twitter page. In fact, millions of people across the globe use and or follow Twitter on a daily basis.
But if you're like many small business owners, you've visited Twitter.com, you've done your research on it, and you know you need to use Twitter, but deep down you're still saying to yourself, "I just don't get it."
Well the good news is…
"You're not the only one"
Thousands of small business owners just like you don't get Twitter at all and are exactly where you are right now…Looking for answers. Answers to questions that no one you know seem to have clear answers to.
But with this report that won't cost you a single red cent, you'll be empowered with the knowledge, guidance, and total understanding of how to use Twitter to your business' profit-producing advantage!
And if you're like most people, I'm sure you've seen businesses and companies gain 20,000+ followers virtually overnight and have probably also wondered how in the heck did they really do it.
Well I can tell you right now…
It's not because they're some kind of computer geniuses and you're not
It's not because they have connections that you don't
But it's because they've received the proper guidance that makes adding and gaining and onslaught of Twitter followers, quick, easy, and best of all…hands free.
And right now, I'm giving YOU free access to the exact same kind of information, guidance, and help that will do the same for you and your small business.
And once you do,

you'll:
Finally understand the ins & outs of how Twitter works
Attract followers TEN TIMES faster than you do right now
Turn your Twitter account into a cash cow for your business
Discover how to enlist an army of fans to promote your products or services for ZERO advertising costs, which equals more profits for YOU
You'll experience all of this and more, but first, you MUST get your hands the one report that enables you to do so, because without it, you'll more than likely continue to have questions and doubts about Twitter.
And right now…
You know you absolutely MUST get on the Twitter bandwagon to ensure you're keeping up with the times
You know you aren't getting the results you want, doing what you're doing right now
You know Twitter is the god of social marketing & that you cannot afford to miss out on the Twitter revolution
Well, now you can do something about it with this breakthrough, free report that's guaranteed to provide you with the answers to the questions you have concerning Twitter right now!
Just enter your name and email address below to Get instant & FREE Access NOW to ensure you finally "get it" when it comes to understanding Twitter and using it to your profit-producing advantage, day-in and day-out!
Happy tweeting,