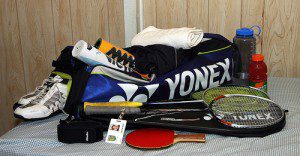 If you are a big tennis fan like I am surely you've seen the "Bag Check" segment on the Tennis Channel. For those who haven't let me explain: The players are simply asked "What's in your bag?" This is their opportunity to show what they carry around in their tennis bag. It's the one mysterious area of a professional tennis players' world that's usually off limits.
These bag checks are interesting…The selected player opens their bag to reveal the contents one item at a time. No surprise — there are some personal items like their mobile phone, iPod, a watch or even their wallet. On the other hand, the valuable content — the secret — especially to  their competition, is equipment. Which equipment do they use? What do they have in their bag that gives them a competitive advantage? We all want to know!
What if other professions had a "bag check"? What would we find?
If you are a cupcake baker in your bag should be — a secret recipe, rare ingredients or baking pans generations old.
If you are a hair stylist in your bag should be — a special pair of shears, extraordinary products or an exclusive set of curling irons.
If you are a fitness professional in your bag should be — a unique workout routine, a list of low calorie meal choices or simple easy to use equipment.
What I am leading up to is this… it doesn't matter if you are a tennis player, cupcake baker, hair stylist or fitness professional you need the proper equipment [tools] to run your business.
Are you working with the right tools to for driving website traffic?
What's in your bag?
If you are a home-based business owner, small business owner or a large business owner you should have in your bag a website.
Let me repeat that… the main piece of equipment you need is a website!
It does not matter what business you're in or if it's strictly a brick and mortar business every single one should have a website. These days it is much quicker and easier to research or buy from a business online using a smartphone, iPod touch, iPad or computer.
Remember your website or blog is your equipment:
make it easy to navigate –  If visitors find it hard to navigate your website, locate information or find it worthless they will quickly click your competitor's website.  So just keep it simple.
keep it up-to-date –  When was the last time you added some fresh content to your website or blog?  If you have a website you cannot add frequently blog posts without calling your web  master then it's time for an upgrade.
Stop guessing what to include on your website and what you must leave out to be an effective marketer. Find out the reasons why your website is NOT making sales. It's all outlined right here. You can finally understand what you are doing wrong what is holding back your sales and how to fix it.
Copyright © 2011 Rising Star Ideas, LLC. All Rights Reserved Worldwide
Photo courtesy: Flick Joits
Leave your comment below: