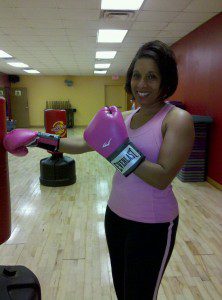 Ready to learn Twitter for business?
Yes even with with my small business, I am in the gym several times during the week. Some of my favorite activities include Zumba and boxing. To be perfectly honest, when it comes to fighting people I'm non-violent. However, it's something about hitting the heavy bag I love. If you ask anybody who has been on the other side of the bag… she will tell you I mean business when I punch! And kick!!
And speaking of fighting…Why are so many small business owners fighting NOT to learn Twitter for business? All you need is 140 characters and in just 30 minutes you can be generating traffic, leads and sales from Twitter. I've been teaching the material in the Twitter Quick-Start Academy™ as a very successful face-to-face workshop and my students do extremely well and very quickly.
In my opinion one of the easiest way to make your brand thrive is to strategically use "Twitter For Business". Unfortunately, many small businesses are not really capitalizing on this opportunity because they "JUST DON'T GET IT" or say "NOW WHAT" after creating a Twitter account.
Here are 5 reason to learn Twitter for business Now:
You get valuable Twitter followers with zero marketing dollars.
You can save time with productivity tools that do the work for you.
You increase visibility both locally and globally for your business.
You streamline your marketing message across Twitter, Facebook and LinkedIn.
You use a mainstream social media tool no longer considered a fad.
Today, I'm going to cut the cost to the 'bare bones' and make it downright affordable for you and your business budget. Your subscription to the Twitter Quick-Start Academy™ program is just $37 per month. When you enroll you'll find the program is 12 weeks in length and packed to the brim with Twitter Power – ready to use right at your fingertips!
Copyright © 2011 Rising Star Ideas, LLC. All Rights Reserved Worldwide
Photo courtesy: RisingStarIdeas.com
Leave your comment below: