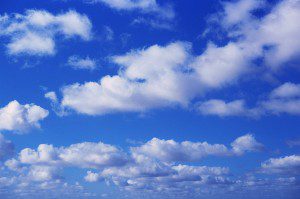 Are you smarter than your smartphone?
The answer might be no, if you only use it to make phone calls, check e-mails and send text messages. Your smartphone is virtually a mini pocket computer at your fingertips to manage your business in the clouds when you are not in front of a computer.
With today's technology, why be tied to your desk or laptop to access data. When, you can rely on web-based applications that store data in the "cloud" of the internet. Just about anything can be done, in the cloud, if you have an Android, iPhone or Blackberry smartphone coupled with a few apps.
To run your business in the clouds there are thousands of apps to choose. With your smartphone did you know you can…
Process a credit card purchase? With the Square app you can instantly accept credit card payments anywhere, anytime, without a credit card machine or internet access. Download the Square app to your Android or iPhone.
Network without handing out business cards? Save time and money with the Bump app. You can easily exchange contact information, share photos, calendars, music and more by bumping two phones. Download the Bump app to your Android or iPhone.
Create searchable notes without writing anything on paper? Have an "aha" moment?  Want to remember a book title or a magazine? Easy!  Simply take a picture or create an audio note.  With the Evernote app everything will be organized in a convenient electronic file cabinet. Download the Evernote app to your Android, iPhone or Blackberry.
Access documents remotely? Need to have access to important documents but don't want to print them or use remote access software? If you want to read a special report or ebook while standing in line or waiting for an appointment use Dropbox. A copy of your files is stored on their secure servers for quick access. Download the Dropbox app to your Android, iPhone or Blackberry.
Check your finances in one secure place? Need to track your business spending, manage credit cards get alerts to remind you to pay bills, about low balance limits or unusual spending? Create an account with Mint to manage all your finances in one place while on the go. Download the Mint app to your Android and iPhone.
Want to see more no-cost or low-tools to boost your business technology?  Take a peek into my small business toolbox here.
Photo courtesy: microsoft.com
Copyright © 2011 Rising Star Ideas, LLC. All Rights Reserved Worldwide
Leave your comment below: