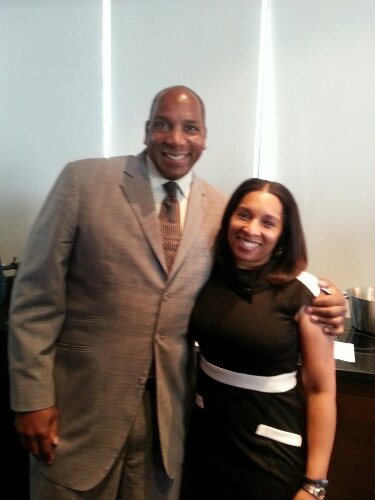 Every business with a blog is searching for ways to get more visibility, marketing their content better and ideas to attract their target audience. That's why its important to attend live events in your niche. Not only do these events draw a room full of your ideal clients but also the top influencers, the media as well as other entrepreneurs you can partner with. This is where the relationships are created and the magic happens.
Last week I had the pleasure of attending the 20/20 Vision: Women In Business forum hosted by Black Enterprise, the premier business, investment, and wealth building resource for African Americans and WalMart.
This event drew over 400 local women owned entrepreneurs and small business owners, the Lt. Governor of Maryland, a state Senator, Earl G. Graves Jr. "Butch" president & CEO of Black Enterprise (pictured with me above) and a host of other movers and shakers.
Here are 6 easy ideas to get more visibility marketing the fun way during (and after) live events:
Take pictures
Gone are the days where you need to carry a camera. Why!? Because no one leaves home without their smartphone, so snap away! Take pictures of the dais  presenters and panel discussions. Be sure to snap some pictures of you with the presenters, event host, influencers and other attendees. Don't keep the photos to yourself! If you want more visibility marketing (posting) those pictures on Instagram and other social media sites will get you started.
Use hashtags
In today's digital and social media age everyone uses hashtags. Just look at commercials, TV shows, products billboards and events. For every piece of content you post during and after the event use the official hashtag created by the event organizers. Hashtags are used to group the conversation to make to easier for people follow. Hashtags bring more visibility because people who are not attending may follow the event too.
Send tweets
No longer is it was disrespectful to have your head to down while someone is presenting. Because we are so connected the person on stage (surely) realizes the audience will be and may encourage tweeting during their talk. If the event organizers did not provide the presenters Twitter handle, look for it yourself. Listen for key points and tweetable moment. Be sure to include their Twitter handle giving them full credit for the thought, idea or statement.
Check In on Facebook
Social proof is important. Let those who have "liked" your page know you are attending high profile events. When you start posting during the event your followers will have a heads up where you are. In addition, you will see others who have checked in too. This is a great way to start a list of people you want to network with in person during the event.
Strategically network
Before the event you can check the website of people to see if they indicate where there will be, if so be sure to follow them on Twitter. Send a quick note to say you will attend the event too.
Monitor the hashtag during the event to see who else is attending and tweeting. Seek out the people you want to meet. Start by retweeting them, say hello then ask for a quick introduction meeting after the event. As mentioned above, make sure you take a picture with them (send via   Twitter) so they remember you.
Write a blog post
Attending live events is an easy way to generate content ideas. You can simply write a summary of your take-aways from the event. Or look for different angles that will appeal to and attract your ideal clients to your blog. Remember the pictures you took? Use them again in your blog posts. Now make sure you send a tweet using the event hashtag and Twitter handles of the event organizers. Don't forget to post the blog to Facebook and tag everyone in your pictures.
To boost your success, during your next live event use these strategies to gain more visibility, marketing exposure and  maximize your connections. Need other ideas to re-energize your marketing? Take my FREE online marketing quiz it tells you exactly what to do.
Copyright © 2013 Rising Star Ideas, LLC. All Rights Reserved Worldwide
Photo courtesy: Tonya R. Taylor
Leave your comment below: