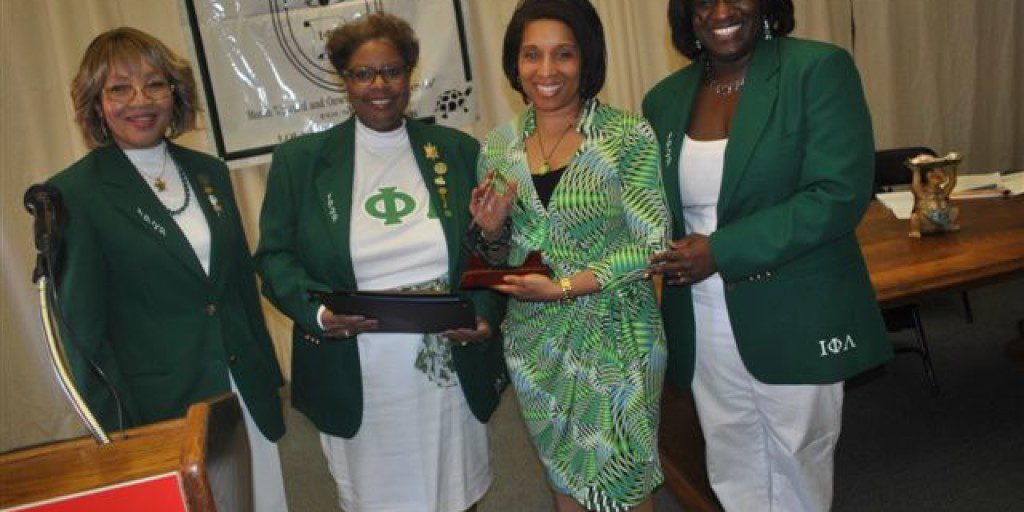 On April 6, 2013 I was honored to accept the "Lola M. Parker Outstanding Business Woman of the Year" Award. This prestigious honor was awarded to me by Iota Phi Lambda Sorority Inc., which is a national business and professional sorority founded in 1929 in Chicago, Illinois.
Getting awards adds social proof and builds your credibility. Its great to be recognize for your hard work and effort. I was nominated for this award from a local subscriber who has received my newsletter for many years, however I never met her, until now. Thank you Betty Wilson-Jones!
I am sharing this with you not to be vain, but as a tool you can use to help boost your online exposure. Awards are important for any business because they are excellent for gaining more visibility and making your business popular. Additionally, awards and recognition provide social proof and help with validating the success level of your business.
Get more visibility now!
Don't be afraid to nominate yourself. Though it is a nice surprise when this is done for you, please don't wait for someone to nominate you. I know you may not feel like you're ready yet, but apply anyway. Fear may keep you from or talk you out of applying for awards. Remember it is okay to toot your own horn.
In addition to generating more visibility, awards can open the doors to other opportunities and more awards. When you receive awards tell people about them everywhere you have an online presence. Start with brainstorming content creation ideas you can use on your blog. Then use those ideas to create posts on your social media channels; like Facebook, Twitter, Pinterest, Instagram, Google+, and LinkedIn. FYI, you can connect with me on each one of those by searching for SavvyBizBuilder. You'll also be glad to know creating press releases still work to provide more visibility both locally and nationally.
5 Reasons why you should apply for small business awards
Winners may be profiled in newspapers, magazines or other special publications
Credibility and recognition among your peers
Gives your clients another reason to do business with you
Get recognized in front of industry leaders in your local community
Affirms your reputation as an industry leader
The bottom line is most small business will never win an award because they will not apply. I urge you to set aside any preconceived ideas or limiting beliefs and start seeking out awards. Winning awards provides more visibility and credibility. Leveraging the awards with your online presence will lead to measurable outcomes; like more website traffic and more customers.
Copyright © 2013 Rising Star Ideas, LLC. All Rights Reserved Worldwide
Photo courtesy: Iota Phi Lambda Sorority, Inc.
Leave your comment below: