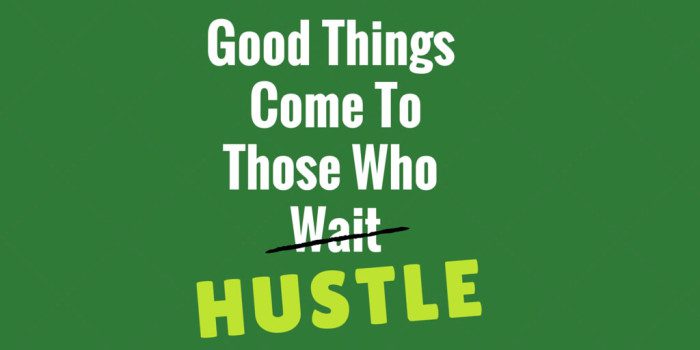 Let me start with the history of my side hustle definition…
You may see me mention the term Side Hustle often. In fact, everyday on my Facebook page I post a couple of "Side Hustle" tips aimed at getting results fast. I remember the first time I used that term on Facebook. I immediately got a call from a friend who point blank said, "You shouldn't be using that term! Do you know what a hustler is?"
All I could do is laugh!
Of course I wasn't talking about the slang negative version of the word. I'm using the term "hustle" in the proper positive context for people who no longer want to rely on their job as the only source of income.
The funny thing, there's a brand new magazine out called "Smart Hustle… of Today's Small Business Entrepreneur" (Geez why didn't I think of that!). There are websites, communities, Twitter handles, Facebook pages-all dedicated, just like me, to helping people with a side hustle succeed.
So what is my side hustle definition?
Basically a side hustle is when someone, I call a Side Hustler, starts a business "on the side" while they're still working a full-time job. They want to make more money, have freedom to live life on their own terms and spend more time with their family and friends. The business can be anything from a cupcake baker, a flower designer, a mommy blogger, a coach,  an author, professional organizer or any of other service provider with a WordPress website.
Side hustle definition simplified
The real truth, is, a Side Hustler's primary goal is to make more money to help supplement their 9 to 5 or make enough money to replace it completely. It's that simple!
Do you see yourself in my side hustle definition?
Side Hustlers also want to get their joy back. They no longer want to live life without fulfilling their passion and purpose. They are sick of feeling drained, depressed, unhappy, dreading Monday–Tuesday, Wednesday, Thursday and Friday (if it's not a payday).
Most side hustlers
want out of the rat race
are sick of their boss
feel like what they're doing doesn't matter
are tired of the daily grind sucking out their energy
feel overworked and underpaid
Believe me I know what it's like to live like this and it's not fun. I know the pain of working a job that you don't like. Well let me be honest, that you hate.
Abraham Lincoln said it best…"Things may come to those who wait, but only the things left by those who hustle."
So what do you do when you are not ready to sacrifice your paycheck for your passion? You do whatever it takes to make your side hustle a success. Your side hustle should be making you money! If you don't have enough customers or enough cash from your side hustle take the action you need to plug the profit holes in your business forever!
Go HERE–> to take my FREE Quiz that tells you where you are leaking profits (AND how to fix it).
Copyright © 2015 Rising Star Ideas, LLC. All Rights Reserved Worldwide
Leave your comment below: