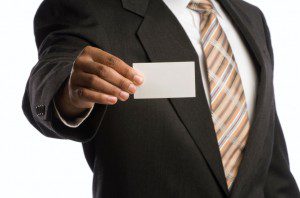 Strategic networking is an important part of running your home based or small business. If you are consistent with following up, networking can build relationships with potential clients and referral sources.
In order to network properly you need business cards, right?
Guess what, who said they have to be a physical card?
They don't! The rules have changed.
Virtual business cards will do the trick.  Ditch the paper business cards forever!
How to create paperless business cards (and it won't cost a cent)
Use Social Media
Are you still saying "I Don't Get Twitter" or not convinced Twitter is here to stay for business communicating?  Well, think again! Here's another way Twitter can be used for business and not just tweeting what you had for breakfast. Use twtBizCard to send your contact information in the form of a business card on Twitter. From your Android, iPhone, Blackberry or another other smartphone you can create or edit your business card, view received business cards or send business cards. While reviewing a contact TwitCard you have the option to: call, email, text, view a map or other social media links.  It's simple, to exchange contact information by adding #twtbizcard to a tweet, that's it! Check out my TwtBizCard @ http://twtbizcard.com/SavvyBizBuilder.
Use Your Phone 
To Bump
If you have an Android or an iPhone all you do is "Bump" your phones together to exchange contact information and a whole lot more. The Bump app is true to its name but both phones must have the app installed to work. If you change your contact information, no problem and no need to re-bump. All you do is remotely send your new contact information to anyone you are connected with in Bump by sending them a new message with the updated contact details. Here's the really cool part any two devices running Bump can bump each other. So that means an Android phone can bump an iPhone.
Honorable mention to Snapdat for creating a mobile contact sharing application that actually looks like a paper business card. Unfortunately I was not able to actually use this app because it's for the iPhone, I have an Android. With any luck they will have a version for us droid lovers too.
To Scan
Have you ever wondered what to do with all those business cards after networking? Other than adding them to that huge pile you already have. Scanning a stack of cards can be a daunting task so how about scanning them as you get them? The CamCard – Business Card app works on the Android, iPhone and Blackberry. Not only reads your cards but organizing them too. It captures the card image and stores the card content into your contact list.
Would you use an eBusiness Card instead a paper one? Let me know in the comments below.
Copyright © 2011 Rising Star Ideas, LLC. All Rights Reserved Worldwide
Photo courtesy: microsoft.com
Leave your comment below: