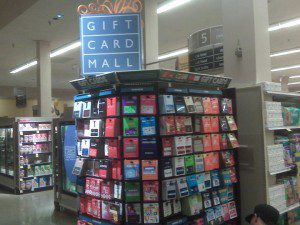 Well it's that time of year again…the holidays. For consumers it's all about shopping. For business owners it's all about sales. And how can you generate more of them by the end of the year driving traffic to your website. Pay attention, you will see businesses get very creative with their marketing campaigns and driving traffic to websites and blogs. Listen, I mean really listen to the radio ads. Watch the TV commercials, especially those money-making infomercials that quickly rack up thousands of sales in minutes.  Read, and then reread emailed sales ads and newsletters. Be sure to save the one's that quickly grab your attention. The holidays are a great time to pick up some new marketing strategies to help with driving traffic to your website.
As a matter of fact, have you noticed the Gift Card Malls™ popping up in Walmart, your favorite grocery store and even smaller versions in the gas stations?
I have. They are everywhere!
Why?
The concept is simple…
Be where your customers are then make it super easy for them to purchase from you.
Without any extra effort or trouble, you can purchase gift cards from your (or their) favorite brands from more than one hundred restaurants, retails stores, movie theaters, sports venues and more at the same time you are picking up milk, eggs, bread and toilet paper. Wow, these gift card malls make life and gifting much easier.
But, WAIT there's more! (LOL, okay, see I have been watching way too many infomercials- they use that line a lot).
If you don't need milk, eggs, bread, toilet paper (don't go there!) or gasoline you can just as easy use the Gift Card Mall™ website to purchase gift cards from your computer or mobile smart-phone. While there you can customize gift cards, check your balance and use their Facebook App for group gifts.  Seriously, it can't get any more convenient than that. Well, I guess it can because they have eGift Cards available too!
My point is, the Gift Card Mall™ concept is a perfect model to learn a few simple strategies to help your small business generate more sales during the holidays and beyond.
Start driving traffic to your website with these 5 strategies you can easily implement:
1.    Create an online and offline presence for your small business to increase your visibility.
2.    Use partners (affiliates, joint ventures) who already have a relationship with your target audience to find more customers.
3.    Provide tools, tips, resources – the no-charge extras that enhance your products or services your customers will rave about to their family and friends.
4.    Use your website (and if you don't have one you get one now) to make purchasing from a computer, iPad and smart-phone convenient and easy.
5.     Use social media – not just for marketing and driving traffic also integrate features with your website to make it more useful and fun.
As you're thinking about how to implement these strategies in your business, remember you've got to take ACTION too.  Remember the number one goal is to make sure you are driving traffic to your website. And if you've been looking for savvy tools, tips, and strategies then you'll want to get yourself the Savvy Online Business Building Kit. It includes everything you need to find your target audience online, no-cost tools with proven results and strategies to quickly shift your business forward now. You can grab your complimentary copy at  www.GrabYourFreeStarterKit.com
Photo Courtesy: Mike Reid MerchantMan
Copyright © 2012 Rising Star Ideas, LLC. All Rights Reserved Worldwide
Leave your comment below: