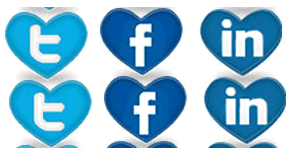 "Social Media ROI" is, part 1 of a 6 part series, an overview of five tips to help measure your social networking return on investment (ROI) efforts:
1.    Create a strategy
2.    Use automation
3.    Use cross platform tools
4.    Invest in training
5.    Track and measure
When it comes to using social media or not for your business it usually about one thing–TIME. There are a ton of tools, with new ones developed daily, to automate tasks that save time and quickly spread the word about your products or services. However in this article you will discover little known techniques to add automation to your social media marketing strategy to help increase your social media ROI.
Four Social Media ROI Strategies
When creating your high-impact social media marketing strategy you should automate some updates to Twitter, Facebook, Linkedin or your other social networking sites by:
Social bookmarking is a powerful tool used to promote a website and its content. There are hundreds of social bookmark sites; with these 3 popular social bookmarking sites you can post directly to your Facebook wall Stumble Upon, Digg and Propeller. As an added bonus from Propeller you can also sent a tweet too!
Use Social Mention to receive daily email alerts of the latest relevant topics posted to blogs, Facebook, Linkedin, Twitter, Audio, Video and more. With this listening tool you can hear and react in "real time" to what people are saying about industry trends, key influencers,  your products and services.
A RSS feed provides a summary (post title and excerpt) of website content. You can use it from your own website or industry website with Twitterfeed to automatically tweet or post new content to your Facebook profile or fan page.
Article marketing will get you backlinks that improve your search engine PageRank which leads to more website traffic. EzineArticles.com is one of the most popular article marketing sites for many reasons. One of the best reasons to use them is every article you publish will be tweeted automatically to your followers.
Why are some small business owners discouraged from using social networking? Believe it or not they don't see social networking as marketing. In addition, they find it hard to measure their return on investment. One potential client said; "the effort required to use them as a marketing tool is greater than what would be necessary using traditional means".
Really!?
What comes to mind when I think of "traditional marketing" is one-on-one marketing handing out one business card at a time during local networking events and spending money on high-priced TV, radio, newspaper or magazines advertising.
Hmmmn, which method takes more effort? There's (part of) your social media ROI!
photo courtesy: TheDesignSuperhero.com 
Copyright © 2011 Rising Star Ideas, LLC. All Rights Reserved Worldwide
Leave your comment below: