Warning: This could change your tweeting forever…
"You're Already Using Twitter… Why Not Make it WORK for You To Grow Your Business? Turn Your Tweets into a 24-7 SALES Machine… Bringing You New Leads, Clients, and Customers for Your Business Around the Clock

"
It's not as hard as you think…You just need CLEVER ideas!
From: Tonya R. Taylor, Your Savvy Online Business Builder
Re: How-To NEVER think about what to tweet again
Dear Solo-preneur,
If you're like other self-employed people who just can't seem to generate enough leads and for whom Twitter is not really working, then you've landed in the right place.
With 500 million registered users and 33 billion Tweets, Twitter is now ingrained in our digital lifestyle its how we connect and communicate with each other. While many solo-preneurs struggle to understand how to use Twitter and  what to say in a way that builds relationships, amazingly 11 new Twitter accounts are created every second.
Are You Disappointed With Twitter Because
| | |
| --- | --- |
| 1. | you don't know what to tweet? |
| 2. | you think Twitter can't be used to generate leads? |
| 3. | you think using Twitter for business is a waste of time? |
| 4. | you think it won't help your local business grow? |
| 5. | you can't figure out what to say in 140 characters or less? |
In hard economic times, one of the first expenses to get cut is your marketing budget. However using Twitter for your business provides a free marketing opportunity to reach profitable new markets.  You will discover many ways to market to your specific target audience that gets results and grow your business fast.
Finally, just when you need it most, an innovative cost effective way to market your business.
Introducing the Twitter Quick-Start Toolkit: 101 Ways To Use Twitter To Grow Your Business NOW!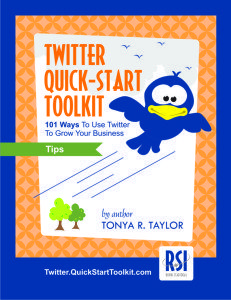 With 101 Ways To Use Twitter To Grow Your Business you can…
| | |
| --- | --- |
| 1. | announce sales and specials |
| 2. | automate communication with your target market |
| 3. | provide links to products and services |
| 4. | drive traffic to your website |
| 5. | promote new products |
I can help you with those ideas and more
I'm going to share with you 101 ways you can start using Twitter today to grow your business. These 101 ideas eliminate the need for you to spend hours and hours brainstorming what to tweet.  Each ideas has a sample tweet, a description and a resource link to a website with a free (or low) cost tool to use in conjunction (optional) with the idea.
You will find specific techniques to use Twitter to immediately put into practice that are guaranteed to jump-start your marketing and promotion efforts.
The Twitter Quick-Start Toolkit does all the thinking for you. This How-To guide is EXACTLY what you need to get people to follow you  and engage on Twitter. The Twitter Quick-Start Toolkit: 101 Ways To Use Twitter To Grow Your Business  will show you:
101 clever ideas you can use so you always know what to tweet
101 descriptions to give you a better understanding of each idea
101 resource links to save you time researching tools to use with Twitter
101 sample tweets so you can see the idea immediately in action
101 sample tweets with the exact amount of characters so you get your 140 character (or less) tweet length right the first time
Grab Your Copy Now While Its Still Available At This Price…
Yes, Tonya,I want my 58 page guide to learn 101 Ways To Use Twitter To Grow My Small Business! I have read and agree to the legal disclaimers below.
"No Advertising Budget Then Grab This Twitter Solution"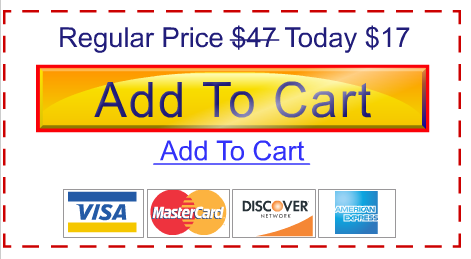 YOU WILL RECEIVE YOUR COPY INSTANTLY
(Even if it's 2:00 AM on a Saturday)

You will instantly receive an email with a download link for your How-To guide.
* Every effort has been made to accurately represent this product and its potential. Please remember that each individual's success depends on his or her background, dedication, desire and motivation. As with any business endeavor, there is no certain guarantee that you will earn any money.
Legal Information
Terms of Use | Privacy Policy | Earnings Disclaimer
Happy Tweeting!







P.S. This offer is only guaranteed for a limited time, so be sure to lock in your special pricing today. Remember, you're making this purchase at absolutely NO RISK, so take advantage of this price while you can. You've got nothing to lose, so reserve your copy right now.
Return Policy
There are no returns allowed on downloadable products.