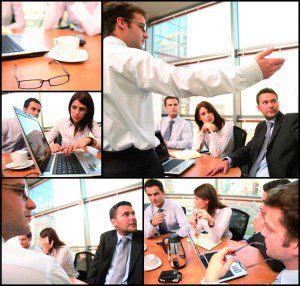 What happens when good teamwork goes bad?
Productivity suffers.
Unlike the past today's teams may work miles away (at home or anywhere across the country or world) from most of their colleagues, clients or vendors. Teams attempting to work together on projects or common documents while remaining in geographically dispersed work locations experience significant challenges.
There is a huge need for teams to share calendars, documents, presentations, proposals and more with each other. But without the proper technology, they may find themselves unable to assign tasks, share files and keep track of assignments.
Every day there is a struggle for teams to maintain a consistent level of productivity. Despite their best efforts they fall short of keeping the big tasks on track, without overlooking the little tasks which are essential to making progress.
To get everyone on the same page you need to enhance your teamwork with technology. Your team should be able to quickly swap ideas, manage and contribute to project information and communicate in real-time from any computer or mobile device.
If you'd like your business to become a part of today's technology revolution, there's no better way to start than with online collaboration tools.
Online collaboration tools are a powerful way of managing the digital information in your business, without the need for lots of complicated services and providers. An online collaboration tool gives you simple, secure hosted workspaces; there's no software to download and most offer a free version to get started.
When selected correctly, online collaboration can streamline complicated situations, improve effectiveness and productivity.
With online collaboration tools your team can:
Make to-do lists – keep track of what needs to get done and who's responsible
Share files – share files internally, with team, clients or vendor
Track time – easily find out who spent how much time on what task
Schedule milestones – track when things are due and who's responsible
Shared address books – share contacts across your business
Get tasks done – reminders are sent to your cell phone or email
Keep a contact history – keep a history of communications with vendors, clients, leads, and others.
Is online collaboration the future of how your team will increase productivity in your business? Not sure? Try these tools to find out:
1.    Basecamp solves this problem by providing tools tailored to improve the communication between people working together on a project. A variety of plans to fit everyone's needs. You can upgrade, downgrade, or cancel any time. All pay accounts include a 30-day free trial.
2.    Huddle you can instantly create a network of collaborative team workspaces, each time bringing together the right team for the right activity. Huddle's base product is completely free; sign up is quick and simple. (No billing details) In addition to Huddle's free service, there are 3 types of premium accounts.
When good teamwork goes bad, try working together collaboratively with online tools. Your team will wonder how they were able to work without these tools for so long.
Get started with savvy online business building learn how to use your WordPress website and online presence to bring new leads and customers 24-7. Check out my FREE Savvy Online Business Building Starter Kit at www.GrabYourFreeStarterKit.com.
Copyright © 2011 Rising Star Ideas, LLC. All Rights Reserved Worldwide
Leave your comment below: