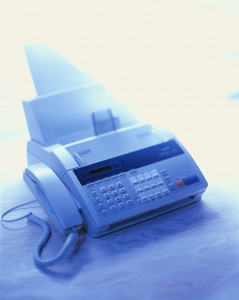 ''I've had a MyFax account for a year. $10/mth for a fine service I'm happy with. But I've sent only 3 faxes. Which is $40/each. Ack!



This was a tweet from my good friend Crystal @BigBrightBulb.
After realizing how much the occasional fax was actually costing her small business she immediately discontinued the service. Her SOS started me thinking about different ways to send and receive faxes without use a fax machine for example; on-demand faxing or internet faxing.
Unfortunately faxes are not used as often as they were a few years ago. These days email is more powerful because of its ability to send and receive larger files, like PDFs or scanned documents. Believe it or not, I recently discontinued my dedicated fax line for the very same reason as Crystal; it was hard to justify the expense.
For the rare occasions I need to send a fax I still have a physical fax machine. You'll be surprised to learn I have discovered four problems:
The machine is taking up valuable desk space
Remembering to turn the fax machine on to receive a fax
Mistakenly answering the office number when receiving a fax
Remembering to turn the fax machine off after receiving the fax
If both my business and Crystal's business experienced the overpriced fax surely other small businesses have this problem too.
What to do?
As you might imagine, for these reasons I was challenged to identify different ways a small business or home-based business can send and receive faxes for free.
Hmmm… is that even possible?
YES!
Free fax services are good for those small businesses or home businesses that have no need for a dedicated fax line or physical fax machine. For small business owners who rarely fax; faxing over the internet can be a no brainer in terms of cost, convenience and efficiency.
Here's a simple 10-question checklist of things to consider when using a free fax service:
1. What type of fax service do I need?
Send
Receive
Send and receive
2. Do I want to send a fax via email?
3. Do I want to receive a fax via email?
4. How many pages do I need to send a day or month?
1 to 5
6 to 10
11 to 15
16 to 20
5. How many pages do I need to receive a month?
1 to 5
6 to 10
11 to 15
16 to 20
6. Do I want to access my fax online?
7. Do I need to fax outside of the United States?
8. When I send a fax will it be larger than 10mb?
9. Can I send a multiple file types?
Doc
Docx
Pdf
Txt
All of the above
10. Will the service include ads on my fax cover page?
Before you disconnect your dedicated fax line, cancel your monthly faxing service or trash the fax machine, take a peek inside my toolbox.  Use your 10 answers to review these tools to determine if a free faxing option will help your small business or home-based business reduce expenses and save money.
Is your small business paying too much for faxing? Let me know in the comments below.
Photo courtesy: microsoft.com
Copyright © 2011 Rising Star Ideas, LLC. All Rights Reserved Worldwide
Leave your comment below: