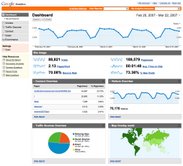 The biggest mistake most small business owners make when driving traffic to their web site is not adding tools to measure the traffic. To avoid this mistake you need to learn about how your visitors interact with your site.
Google Analytics offers a host of compelling features and benefits for everyone from senior executives, advertising and marketing professionals to site owners. Once you understand the power of this tool you will make profit-generating improvements to your advertising which will drive more traffic to your website.
Below video overview of how to use Google Analytics. If you are new to Google Analytics or you'd like to pick up a few tips on how to use some of the different features, this video is a good place to start.
What's next?
Now, if you're just starting out and trying to get more traffic in the FIRST place, then follow a step-by-step system that is easy for you. The Drive Traffic Fast! Do It Yourself Traffic Building Program (No SEO Guru Needed!) gives you the most important things to do to set up simple, solid online marketing system, so that you consistently fill your pipeline and continually get new clients around the clock. All the tools, worksheets, checklists, examples and how-to videos are handed to you on a silver platter. Easy. You can get it at www.DriveTrafficFast.com.
Copyright © 2011 Rising Star Ideas, LLC. All Rights Reserved Worldwide
Leave your comment below: