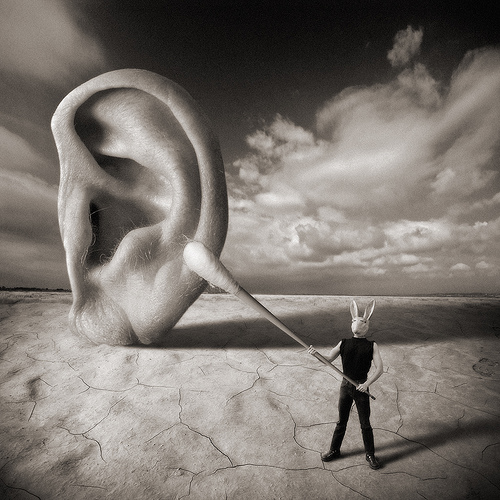 I love it when I send a tweet about a product or service and the business tweets me back. Last week I sent this tweet:
"@HaierAmerica where can I find a list of remote codes? Will the model# HLT71 work with Fios?"
To my surprise within a few hours not only did @HaierAmerica respond so did @VerizonSupport with the exact information I needed.

WOW how cool is that; the mere mention of "Fios" prompted a response from their support team. I thought, even though the tweet was not directly sent to Verizon, they heard me discussing their product.
That was until yesterday, when I read the article "Listen Up" by Judy Franks who said "Hearing and listening are two very different things, listening takes extra effort. We may passively hear, but we actively listen."
She is so right! They didn't hear me, Verizon was listening.
They were listening too
Two days after the devastating earthquake in Haiti Twitter went crazy with tweets stating AmericanAirlines and @JetBlue were offering free trips for doctors and nurses to help with relief efforts.
Unfortunately the tweets were a hoax. However, both American Airlines and @JetBlue were listening to the rumor which allowed them to respond quickly with tweets about their specific relief efforts.
Many entrepreneurs and small business owners still think social media is a fad, but look around it's here to stay. It doesn't matter if a business owner is participating in the conversations on Twitter or other social media tools like Facebook people are talking about their products. Those people are driving the perception of their brand whether they like it or not.
The question is do entrepreneurs and small business hear them, or, are they listening?
In my opinion it would benefit most entrepreneurs and small businesses to at least understand how to use Twitter for business at least as a tool to listen to industry trends and hear what people are saying about their brand.
In addition to Twitter, here are 3 free social media listening tools:
1. Social Oomph – use the alerts to track keyword option to set up real-time alerts to monitor tweets across Twitter that can be emailed to you on a schedule you choose.

2. Google Alerts – get email updates about the latest news, events, stories, blog post and more so you can monitor the web from your inbox. 

3. Social Mention – create an alert to send a daily email after searching any one or all of the following: blogs, microblogs, networks, bookmarks, comments, images, news, video, audio and Q&A


If you are not actively listening to trends in your industry and what your customers and/or prospects are saying you are missing a huge opportunity not to mention doing your brand a disservice.
With a little extra effort, using Twitter and other social media tools  entrepreneurs and small businesses can easily listen louder.
Listen Up
For daily updates on free tools, tips and reviews for your small business, follow @SavvyBizBuilder no social media listening tools needed.
Get started with savvy online business building learn how to use your WordPress website and online presence to bring new leads and customers 24-7. Check out my FREE Savvy Online Business Building Starter Kit at www.GrabYourFreeStarterKit.com.
Photo courtesy: © yveslecoq flickr
Copyright © 2015 Rising Star Ideas, LLC. All Rights Reserved Worldwide
Leave your comment below: