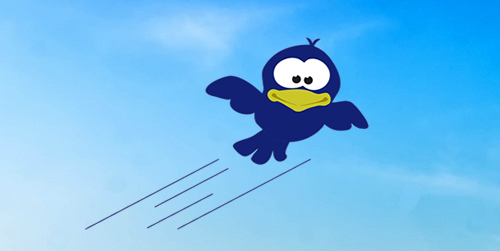 Quick, use these Twitter tips for small business before they change it again.
Wait!
You're not using Twitter?
Well this fact might change your mind…
"60% of respondents (survey of 1,000 U.S. Twitter users) said they have purchased something from a small-medium business because of Twitter and 43% intend to purchase regularly."
So even if you are not on Twitter, its likely a huge amount of your target audience is tweeting and following your competition. You are missing a golden opportunity to reach a community filled with a ton of your ideal clients.
Well here's your chance to jump on board. On Tuesday, April 22, 2014 Twitter is made an enormous change to bring your best content front and center. Basically they are becoming Facebook. I'm serious. The new layout looks so much like Facebook you will hardly be able to tell the difference.
4 Twitter tips for small business you need to know now

Just like your Facebook timeline cover photo, on this new version of Twitter you will now have a giant header image spread across the top of your profile page. The biggest difference between the header image on Facebook and Twitter is the size.  Twitters header image size is 1500 x 1500 and will automatically be cropped for mobile users. Note: If you have have a customized or standard background image it will no longer displayed on your page.
Just like your Facebook profile photo, on this new version of Twitter you will still have a square profile photo. This is image that currently floats beside your tweets. Unlike the dinky little image which is a mere 73 x 73 the profile photo will grow to 400 x 400.
Just like on Facebook you will be able to see pictures of your followers directly on your page. And your Vines [FYI, Vine is a mobile app owned by Twitter that lets you quickly capture and share really short (6 seconds or less) looping videos.]  will automatically play.
Just like on Facebook where you can pin your post to the top of the page, well you guessed it! You'll be able to pin tweets to the top of the page too! Twitter is adding this as a brand new feature. Now you have the opportunity to pin your best tweets, which include your opt-in offer, your latest blog post, your event and so much more, prominently at the top in the center of the page.
Based on these changes it looks like Twitter will indeed become Facebook. But wouldn't you know it just as you get use to these Twitter tips for small business, Facebook is making big changes this year to your Facebook business page too!
Want 101 Twitter tips for small business? Grab these 101 clever ideas with sample tweets specifically for small businesses with no budget for advertising. Warning: You will never have to worry about what to tweet again.
Copyright © 2015 Rising Star Ideas, LLC. All Rights Reserved Worldwide
Photo courtesy: savvybizbuilder.com
Leave your comment below: