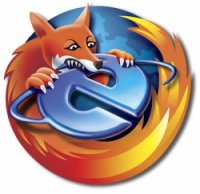 Do you find yourself screaming because your web browser hangs all the time? If not, consider yourself lucky.
Over the years there have many arguments about which browser is better and why. So, let me start by saying this is not a technical analysis of Firefox vs. Internet Explorer (IE).  It's simply my view with some details of why I love Firefox and think you will too.
As part of my weekly tasks I review my Google analytics statistics to learn about how my visitors interact with my site. I was surprised to learn 59.68% use Internet Explorer despite some of the well know issues like; constant browser crashing or locking, restricting content and the hole that caused a major computer attack in China two weeks ago.
Frustrated with Internet Explorer version 6 (IE6) the user community started an "IE6 Must Die petition" on Twitter and an "I Hate Internet Explorer" Facebook fan page.
Not just another web browser
At first glance you might think Firefox is just another web browser, right?
Well not to me. There are three things I really love about Firefox. First, are the thousands of add-ons available in more than 14 different categories.  An add-on allows you as the user to add specific features you like, for example a Google toolbar.
Second, is automatic updates. When I launch Firefox it will tell me if a new browser version or add-on is available. As a bonus it will also warn me if the add-on is not compatible with the current browser version.
Third, I just don't have the problems with the browser crashing and locking. I can honestly say with Firefox I have never had that issue.
You can see the difference
Still not convinced?
See for yourself, take a look at all 7 examples that prove you can see more of the web page without touching your scroll bar. Plus you will notice the images and text are clearer.
You can also use Browser Shots an easy free tool that makes screenshots of your web page in different browsers. All you do is enter your URL (web address) then hit submit. Browser Shots will make screen shots of your web page from the browsers you choose.
When you're ready, Firefox has a dedicated page to help IE users make the switch easy. They provide reasons to switch, frequently as questions and a simple three step process.
It doesn't matter whether you are getting started with Firefox or you already love it too, you'll enjoy the "Your Small Business Toolbox" collection of add-ons.
Get started with savvy online business building learn how to use your WordPress website and online presence to bring new leads and customers 24-7. Check out my FREE Savvy Online Business Building Starter Kit at www.GrabYourFreeStarterKit.com.
Let me know your favorite add-on in the comments below.
Copyright © 2011 Rising Star Ideas, LLC. All Rights Reserved Worldwide
Leave your comment below: