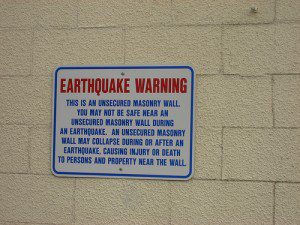 Does your home-based business have a disaster recovery plan?
When I worked in Corporate America it was a requirement to have a disaster recovery plan. In fact, we had to review and update our plans annually. The executives made sure disaster planning was ingrained, almost brainwashed into my mind. Unfortunately when you work from home on your side hustle or small business it's not until a disaster strikes; like the rare 5.8 magnitude earthquake that happened in 2011 or the impeding wrath of hurricane "Irene" threatening the east coast this weekend, you actually think about what you need to do. Unlike the earthquake we knew "Irene" was out there and (potentially) coming our way.
Hurricane Irene was serious! Did you see what she did to Richard Branson's multimillion dollar estate on his Necker Island? The entire place went up in flames sparked by lightening from the storm. The main house of his luxury estate was completely destroyed. To make matters worse, his office was based in the house and he confessed that he lost thousands of photographs. I pray he had a backup of everything else.
My point is, what is your disaster plan? Are you prepared for the worse? Will your side hustle computer or home-based business survive the next earthquake, hurricane, fire, flood, etc?
Use these five steps to help prepare your business for the unexpected:
1. Make sure your office computer is backed up daily
Stop risking your valuable information. Be sure to backup every computer in the house you use for business. The odds and chance of losing everything is high because problems like computer failure, destruction or loss by viruses, fire, or theft can occur when you least expect it. When deciding what to back up, all highly critical information to your business should be at the top of your list. Anything you cannot replace easily like emails, contacts, calendar entries, documents, spreadsheets, pictures, audio files, bookmarks, all customer data and your databases. Here's a tip: use Mozy a no-cost solution to get you started.
2. Know how to contact your web hosting company
You hired a web developer to create an online presence for your business she's done, moved on to her next project. Well, what happens if your website goes down because of a disaster, in the middle of the night or during a holiday? Do you know how to contact your web hosting company or how to access the administrative area of your blog? The web hosting company should be your first line of defense. Document your account information and how to reach support directly.
3. Create routine backups of your website or blog
Newsflash: that .Zip file your web developer gave you will only bring back your site but you will be starting over from the first day it was launched. Without a current version, everything you added to the site since your launch day will be lost. The good news, your hosting company creates and maintains a back up. The bad news, they may only create the backup weekly. If you have an active blog adding content several times a week you will need a daily backup too.
4. Store your important documents in the clouds
Think about…what if you can't physically access your computer at home? All your important information is stored on it and you need. The solution, Dropbox! If a disaster strikes Dropbox can help you maintain access to important documents. Dropbox is a free service that lets you bring your photos, docs, and videos anywhere to access them easily in the clouds. With Dropbox you always have your stuff when you need it. It's a favorite from my list of 101+ Free Tools. I LOVE IT because I can access my stuff on my Android, iPad, laptop and desktop anywhere in the world.
5. Use apps on your smart phone to help run your business

During the earthquake aftermath I had intermittent service on my laptop. But my mobile phone was working fine. With tens of thousands of apps available (both Mozy and Dropbox have one) there is no need to be tied to your office or laptop to access your data. Your smartphone is virtually a mini pocket computer at your fingertips to manage your business when you are not in front of a computer.
Earthquake on Tuesday and hurricane on Saturday/Sunday: brace yourself!
Get started with savvy online business building learn how to use your website and online presence to bring new leads and customers 24-7. Check out my FREE Savvy Online Business Building Starter Kit at www.GrabYourFreeStarterKit.com.
Copyright © 2011 Rising Star Ideas, LLC. All Rights Reserved Worldwide
Photo courtesy: dweekly
Leave your comment below: