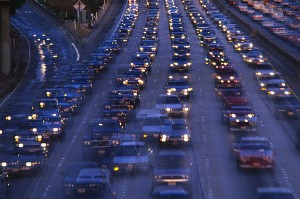 Yes, it really works!
Article marketing will get you backlinks [incoming links to your website] that improve your search engine PageRank [a formula developed by Google] which leads to the big kahuna. . . TRAFFIC!
This is the kind of traffic jam you want to have and if you're consistent you will achieve remarkable results. The good news, there are literally hundreds of article marketing sites to choose from. The bad news, there are literally hundreds of article marketing sites to choose from (Please note the repeat wording was not a mistake).
However, there is one article marketing site that stands out, I'd like to call your attention to EzineArticles.com.
Whether you are a beginner or an expert to article marketing here is some amazingly unparalleled information you need to know:
Who should use article marketing?
Anyone who wants to reach new audiences. Alexa (computes traffic rankings by analyzing the Web usage) ranks EzineArticles.com as one of the most popular sites on the Internet. Your articles will be sent to over 400+ niche daily permission-based email alerts indicating new articles are available that match their unique interests.
What should you publish?
Before you create anything new repurpose content you already have. Take a look at your archives for past newsletters, blog post, comments from forums or blogs, how to documents, checklist and ebooks or books. Articles should be 400-750 words and must be original content you wrote.
Where can you get backlinks?
EzineArticles.com offers you two unique ways to obtain those precious backlinks with tons of link-juice. First, in your author bio you can include 3 business links, 1 personal link, 1 blog link and links to your LinkedIN, FaceBook, MySpace, Twitter and FriendFeed page. Second, in your resource box (the area at the bottom reserved to brand yourself, your business, and your website) you can include two links. As an added bonus, you can have up to 3 pen names each with their own author bio and as many as 3 resources boxes for each name.
When will you know its working?
EzineArticles.com offers some amazing account statistics with printable reports. They provide a visual graph of your 7 most viewed articles with the cumulative total number of views by visitors. Other statistics include number of times the following links have been clicked;  EzinePublisher, a link in the body or resource box, "Forwarded To A Friend", amount of comments for each article, number of ratings and number of times this author's Expert and Expert Bio pages has been viewed.
Why use EzineArticles.com?
There are many reasons why you should use EzineArticles.com however these two blows the competition completely out of the water.
1.    Keyword generation – You can now see which keywords and keyphrases were used to help find your EzineArticles! This is critically important data that can immediately help you improve the quality of your articles.
2.    FREE article writing & marketing training – These training series are full of helpful tips and strategies for successful article writing and marketing. You have the option to listen and learn with audio, download PDF's or receive the training series via email.
How can you get even more exposure?
Visitors can subscribe to your updates. You can show your latest published articles own any website with their handy widget. But this next one is HUGE…EzineArticles.com will automatically syndicate your new articles into your Twitter account so every time they accept a new article, it's automatically updated on your Twitter profile.
Bottom line
With this feature rich site and at the low cost of FREE, its clear EzineArticles outperforms the competition by leaps and bounds. Want more traffic? Article marketing works like magic!
Get started with savvy online business building learn how to use your WordPress website and online presence to bring new leads and customers 24-7. Check out my FREE Savvy Online Business Building Starter Kit at www.GrabYourFreeStarterKit.com.
Copyright © 2011 Rising Star Ideas, LLC. All Rights Reserved Worldwide
Leave your comment below: